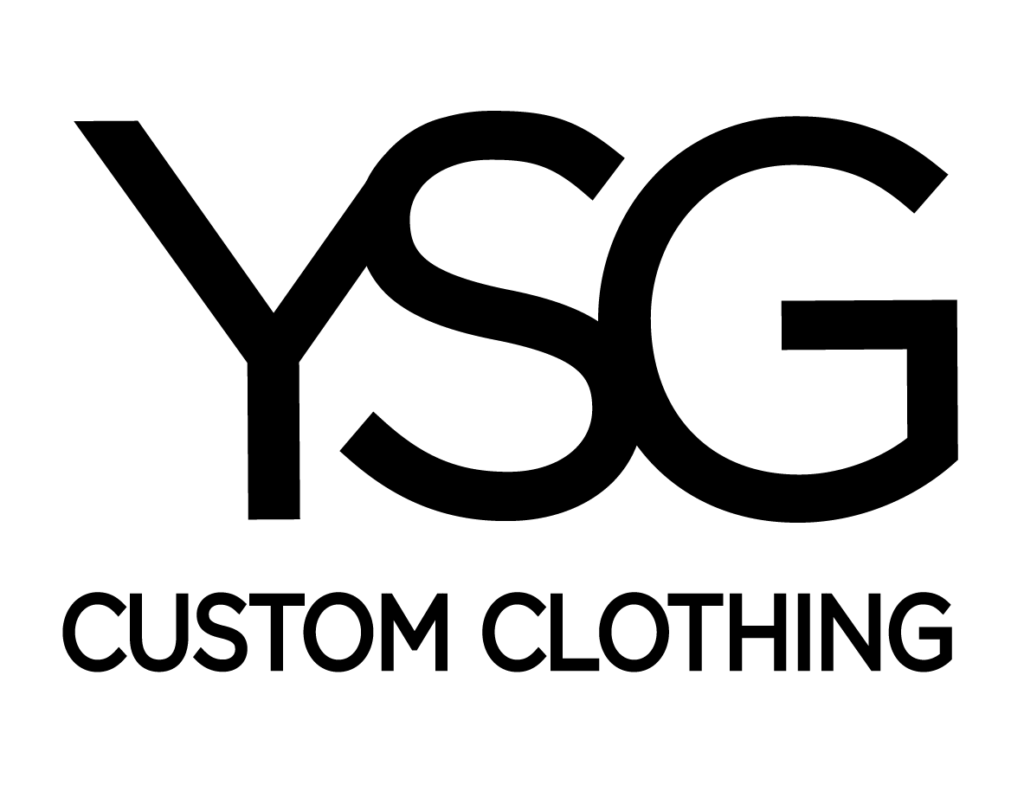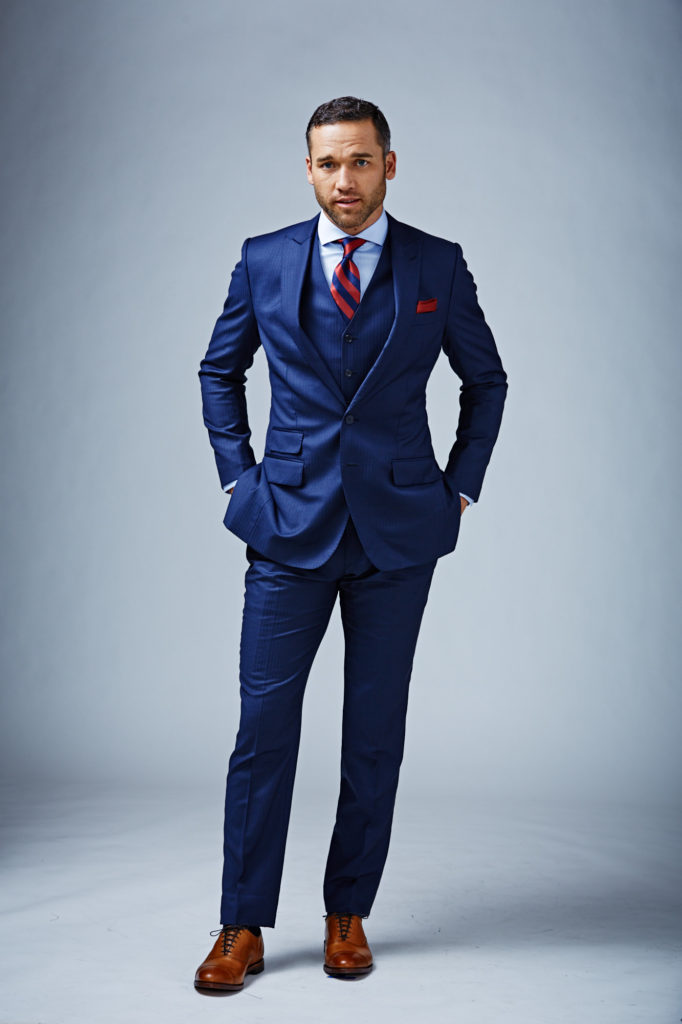 Just like any house or relationship, your wardrobe also needs a solid foundation. Too many times I've sat down with clients who immediately turn to the "fun" fabric samples, not paying attention to the staple fabrics that they should really be focusing on. When you are building a professional wardrobe you have to stick to the fundamentals, and most likely leave a lot of what you may already own in the closet.
Two main focuses should be subtility and versatility.
Whether you are working in the corporate office or traveling, you need pieces that can be worn together, apart, and they need to be noticed and then immediately forgotten. Your dress should toe a line that your clients and colleagues are not distracted by your wardrobe and can then focus on what you're saying and the project at hand.
The best way to accomplish this is to stick to the two most versatile fabric colors: navy and charcoal. Yes….Black in not versatile!!
Suiting:
Navy and grayscale suits are the foundation. They are always appropriate at the office and they are so easy to pair with shirts and shoes.
Stick to two button suits. Three and above are out of style right now, and two buttons are always in style. They make your torso look a little longer which will make you look taller overall. Avoid looking like a 2002 NBA Draft pick.
Notched lapels are more common, but peak lapels are a great option if you want to make your chest appear to be wider or to go for a more formal look.
Side vents frame your back a little more athletically, but a single vent is classic. No wrong choice there.
Pants should be flat front and hit your shoes near the middle. Somewhere between a quarter and half-break depending on style preference. The overall fit of your suit should always be tailored to your body. For some that will be slim, for most it will be fitted, and there's are a couple that still look best in a more comfort fit. The goal should be to look slimmed out but not uncomfortable.
Blazers: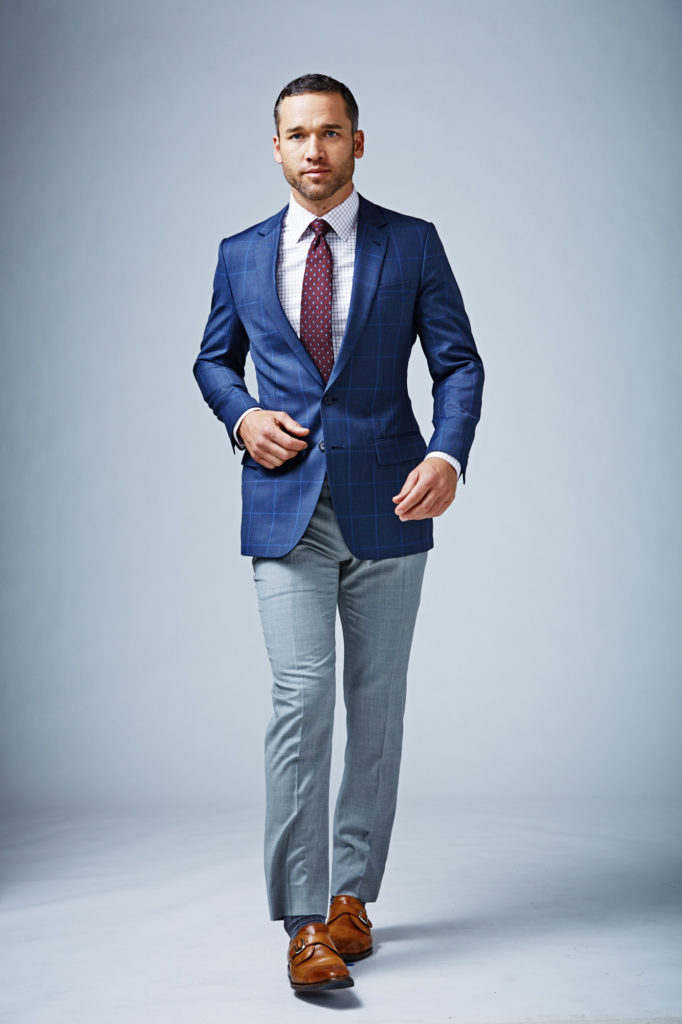 A blazer is a suit jacket that does not belong to a suit. While you may be able to wear some suit jackets as blazers, that is not alway a safe rule. There are also some jacket fabrics that should never be made into a full suit. Remember, versatility and subtility. Blazers do allow you to have some fun and wear colors and patterns that normally you'd never wear. This works best when paired with a dark pair of slacks or jeans. Be careful to never overdo an outfit. If you are wearing a loud blazer, then your shirt and pants should be simple. If your shirt is a strong color or pattern, then your jacket should be subtle.
Never wear a pinstripe jacket as a blazer, or a patterned jacket with pants also with a pattern. Keep it simple and you'll always be safe.
Shirts
Shirts are very important because you're going to be wearing one everyday for any occasion. I well fitted shirt will make you feel like a million bucks, and provide you with confidence and comfort throughout the day. There are 5 or 6 staple shirts you need in your closet, and then after that it's safe to branch out. You need to have 2-3 white shirts; they match everything and are business 101. A nice light blue shirt compliments a navy suit very well and nearly any tie can also be paired with it. I love a nice small square pattern that give the shirt some texture but also is still very easy to pair with your suits and ties. Lately, I'm a big fan of a nice classic striped shirt that pairs amazingly with your navy or charcoal suits, and also dresses down perfectly with jeans and blazer. Avoid plain colored shirt in red, pink, dark blue, and yellow. I'm talking about those stafford shirts you get from JCPenny that kids wear to high school dances. Always avoid looking like you are going to prom.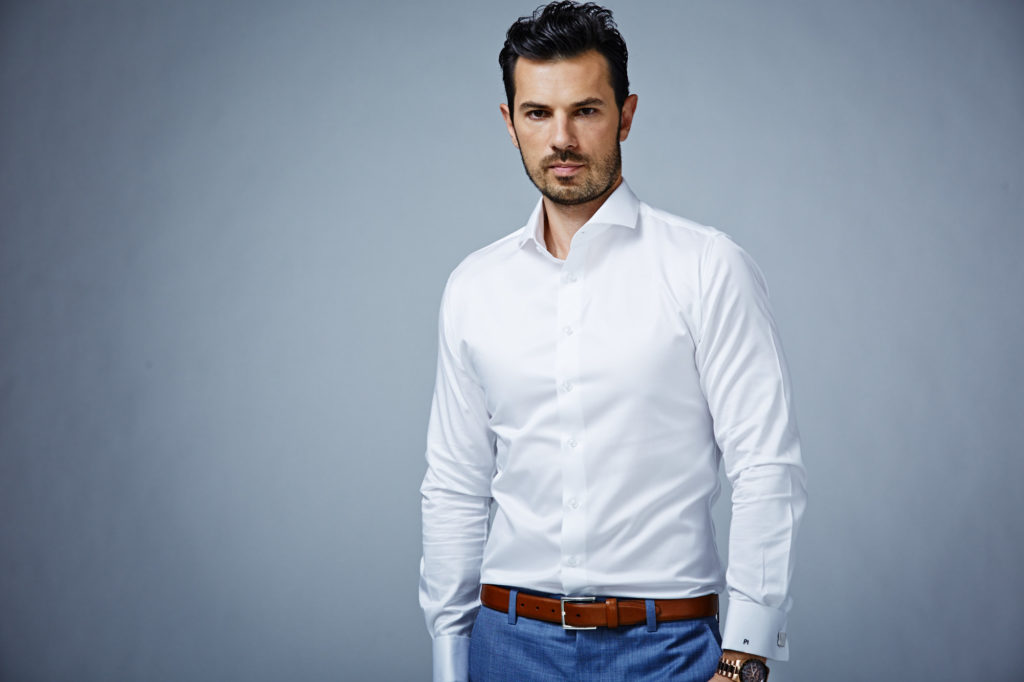 Use collar stays with a flimsy collared shirt to keep them looking nice. If the shirt has a strong canvas lining, like YSG shirts, then they aren't needed. If the collar is buttown down then it is a casual shirt that should be worn without a tie. Do not wear a tie with a button down collar. Especially if that shirt has a strong causal pattern to it. A nice shirt with a strong collar will look way better everytime. I don't recommend cufflinks for the office, but for some guys that's their thing. Just be sure that it's an actual french cuff shirt and not something you've rigged up, or even a convertible cuff.
Rule of thumb with ties: if the shirt is busy wear a plain tie, but if the shirt is plain then you can wear any tie.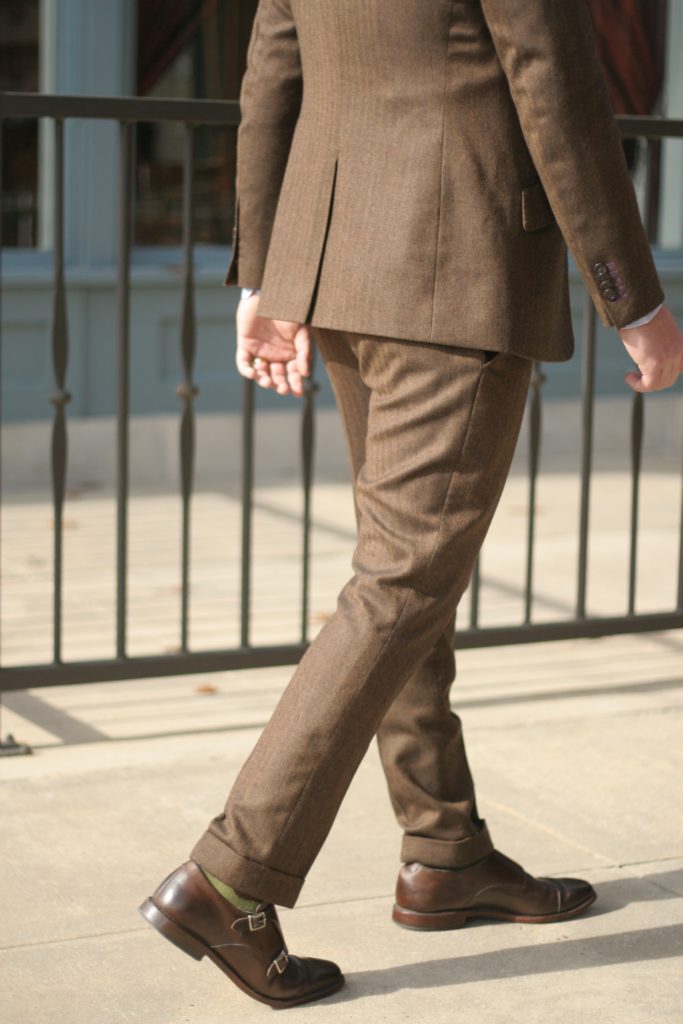 Slacks
Some people prefer to buy just a few pair of slacks to wear without a jacket or with blazers. This is great. Just stick to your basic patterns of charcoal, gray, navy, and even black. Same fitting rules apply to slacks and they do suit pants.
Shoes
Wear nice shoes. Nothing ruins a nice suit like an ugly pair of square toe eccos. Invest in some nice leather bottomed shoes that can be recrafted when they wear down. They will cost you more initially, but if well taken care of they can last you a decade. Approved styles: Captoe Oxford
Semi-Brogue Oxford
Wingtip Oxford
Single Monk
Double Monk
Brogue Derby
There are a few more styles that are great and most high end brands will never steer you wrong. Keep your shoes polished and conditioned and they will hold up quite well. If you are a heavy sweater try to allow at least a day in between wears. This may not be possible when traveling but bring along a pair of cedar shoe trees to help absorb the moisture.
Socks
General rule is they should match the pants. Socks are a great way to show off a littler personality and fun but don't get too crazy. Just avoid wearing black socks with navy or gray pants. Even if you are wearing black shoes. You will look so much more fashionable if your socks go with your outfit instead of just an afterthought pair of gold toes.
Accessories
For the most part keep accessories to a minimum and simple. Pocket squares are great. They should not be the same pattern as your tie, however. Stick with a
simple white until your knowledge grows on how to to put together a good ensemble. Watches and a ring are great, but avoid a lot of other jewelry.
Business Casual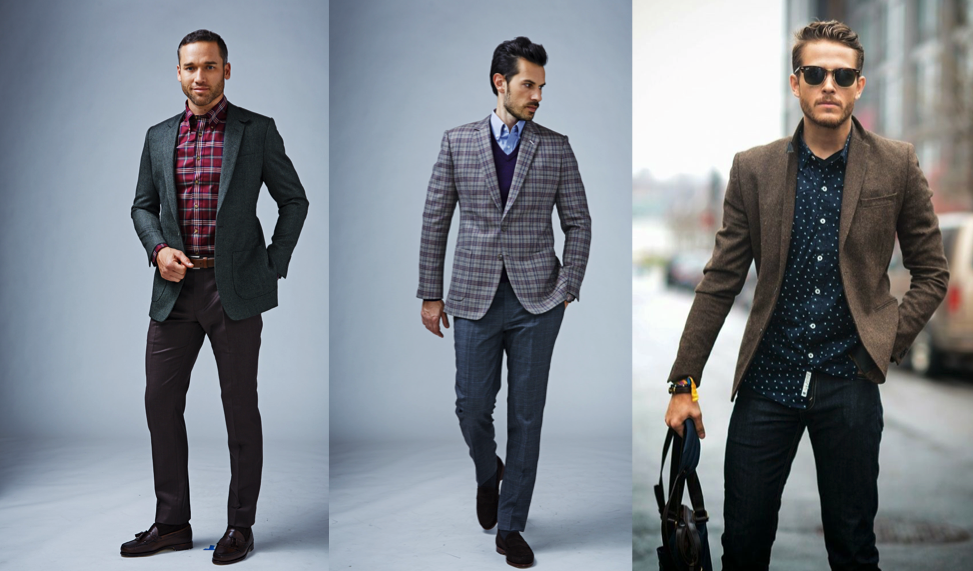 This can be the most confusing two words in the english language. We are nervous of being overdressed but terrified of being underdressed. Step up your business casual and get rid of the golf polos. Invest in some fun casual shirts, some that can even be worn untucked, and pair them with some nice dark jeans and a blazer. If the atmosphere is more casual then drop the blazer and you're perfect. Chinos are another great item to own as they are more casual than slacks, but still have a professional appearance. Invest in a nice pair or two of dark denim jeans. You'll wear them all the time.
Shoes:
You can still wear your nice leather bottomed shoes with jeans, or maybe opt for some converse, jack purcell's, or vans for an even more toned down look. Simple colors and styles. This is Texas so cowboy boots can still be worn, but I also love a nice pair of dress boots or chukkas.
Ladies.
I apologize that I'm not as much of an expert with women's clothing as I am with men's. Most of the information I've given here will apply to you as well, but you also have much more freedom with your blouses and jackets. You can wear more patterns than guys typically can, and your blouses can be the focal point of your whole outfit. Same as guys, everything you wear should be tailored to your body type. I am currently working on a partnership with a stylist who specializes in styling women and I will be able to provide more information and advice in the upcoming weeks.